These dashboards are fully customizable and adjustable according to the users: you can create dashboards based on roles, sites or restricted perimeters for the targeted population: network operations and engineering, Managers and CIOs, Service Providers, collaborators outside the ISD... Everyone can have a dashboard or a mapping display corresponding to their needs.
Customizable maps help to visualize and monitor simple and complex network architectures.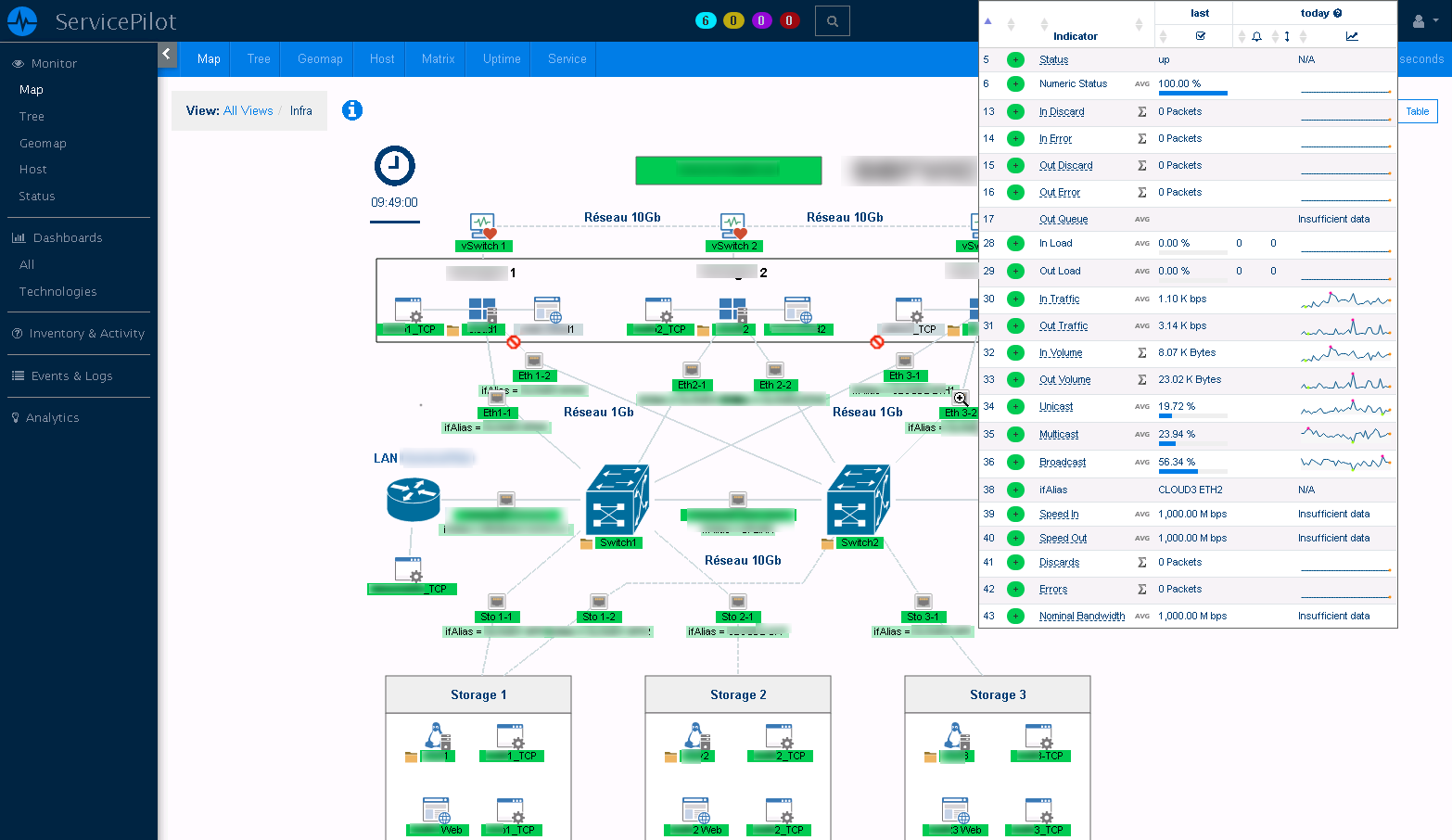 It is also possible to automate the discovery and generation of these site mappings on a geographic map to keep an eye on the performance and availability of all sites under monitoring. The management and operation of network performance in a multi-site context with a large number of devices is greatly facilitated by the use of Geographic type maps.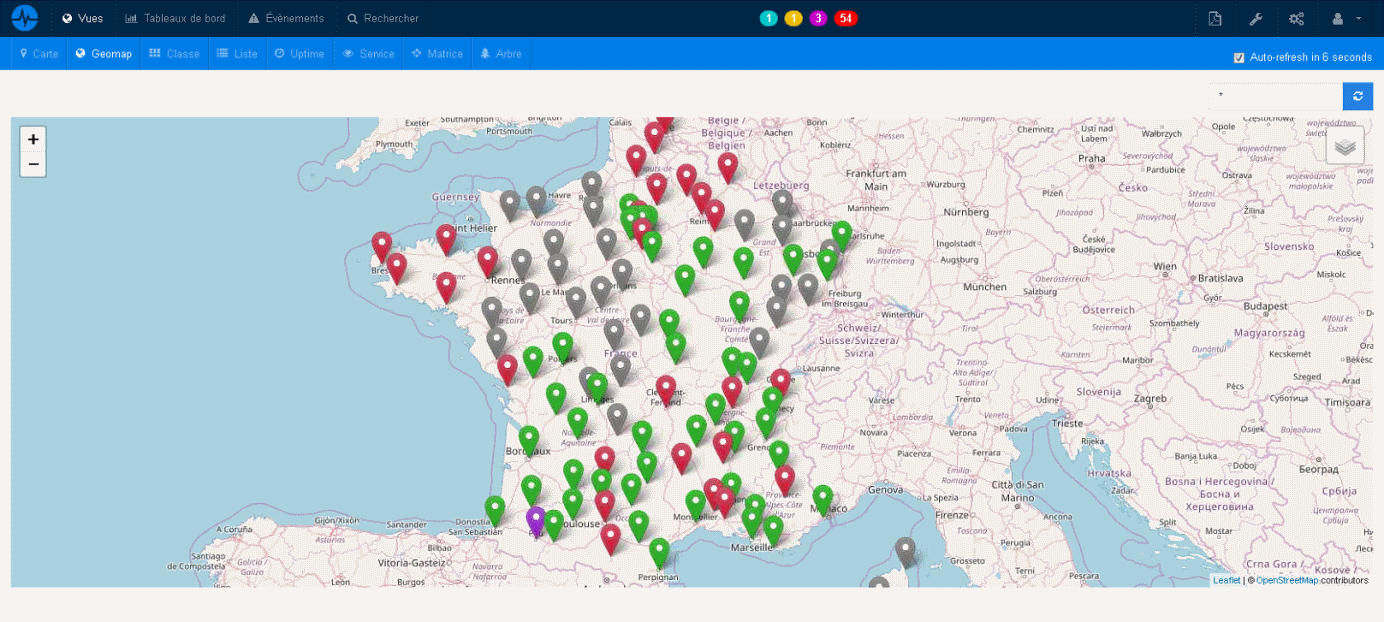 In addition, ServicePilot covers all protocols and technologies to get the most visibility on your networks and the services they deliver: SNMP, Traps, Syslog, NetFlow, Ping, BGP, OSPF, IPSLA, HTTP, SQL,...
The analysis of traffic between remote sites and the datacenter is greatly facilitated thanks to adjustable thresholds in order to set up alerts according to the needs of remote sites. Customized dashboards and maps allow the quick understanding of specificities of each site and incident.
ServicePilot for agile monitoring of SD-WAN networks
Here are 4 points showing how ServicePilot can help in performance management of new SD-WAN network architectures:
Monitoring of thousands of physical or virtual sites and devices (SD WAN and traditional networks, servers and NFV, applications, datacenter ...)
Discovery and automatic monitoring of links (active, public and private, networks and systems,...) and applications.
Modern interfaces for monitoring and operation**: Dashboards, Alerts, Mapping, PDF Reports, Event Trays, Collaboration, etc. Modern interfaces for monitoring and operation: Dashboards, Alerts, Mappings, PDF Reports, Event Trays, Collaboration, etc.
Multi-builder support, technology packages, speed and ease of deployment, multi-tenant, adapted to multi-site, etc.
In addition to its versatility for complete, unified control of multi-site networks, ServicePilot allows full use of automated, dynamic and correlated data analysis of Cisco, Versa or Cloud SD-WAN controllers. The data in ServicePilot allows you to measure the performance of the application policies that have been implemented, view which traffic has been transmitted in which classes and over which paths by assigning SD-WAN controllers.
In addition, customizable dashboards, maps and PDF reports allow users to tailor visualizations and data to suit their needs and better understand how infrastructure performance affects applications and services. The analysis capabilities are adjustable and varied depending on the data sent to ServicePilot: track authorized connections, monitor blacklists, active VPNs, active users, routing, and much more, depending on your monitoring needs.
New features promote agility and communication with the **collaborative IT incident resolution ** (presence, chat, calls, screen sharing integrated into the monitoring software).
Conclusion
The ServicePilot all-in-one monitoring solution is adapted to the needs of large SD-WAN network management, enabling the supervision of existing and new architectures to optimize transitions and the management of WAN networks, virtualized or not.
A single, unified dashboard provides full visibility of your entire WAN infrastructure before, during and after the transition for better control of network performance and application services delivered. The full range of ServicePilot functionality enables you to reduce MTTR by reducing the time to identify incidents, the context to help resolve them, and prevent impacts to sites or employees. The solution corresponds to the needs of CIOs to better control connections and reduce link costs by better sizing traffic between remote sites and datacenters without sacrificing performance.
ServicePilot also makes it possible to reduce TCO thanks to the consolidation of tools, particularly thanks to its technological (SNMP, NetFlow, APM, Logs, SDN, NFV...) and functional (automatic discoveries, mapping, dashboards, dashboards, PDF reports, alerts...) coverage. Service level analysis is facilitated by standard and customized interfaces to easily understand how infrastructure performance affects applications and services for better network performance management.