Application migration projects to the Cloud need monitoring to ensure the operational success of modern IT projects. With ServicePilot, you automatically monitor your Cloud resources before and after deployment to measure the performance impacts of changes over time. This helps ensure of this performance while reducing resource costs.
Integrate ServicePilot with Microsoft Azure to intelligently monitor services running on the Azure Cloud. Our package automatically discovers your Azure public or hybrid Cloud environment without manual configuration. ServicePilot provides the real-time observability needed for dynamic and complex environments with integrations for over 20 Azure services (AppServices, Blobs, Databases, VMs, etc.).
Kubernetes and Docker monitoring
ServicePilot automatically monitors all your Docker Containers as well as Kubernetes pods and nodes. The agent also automatically discovers all your containers on each of your servers in order to analyze in real time the performance indicators. In addition to the metrics per Docker and per Container (process, memory overflow, interface, ...) you can easily correlate application metrics with shared infrastructure or cluster metrics.
Getting the server big picture fast and drilling down to transactions is understanding the performance of applications.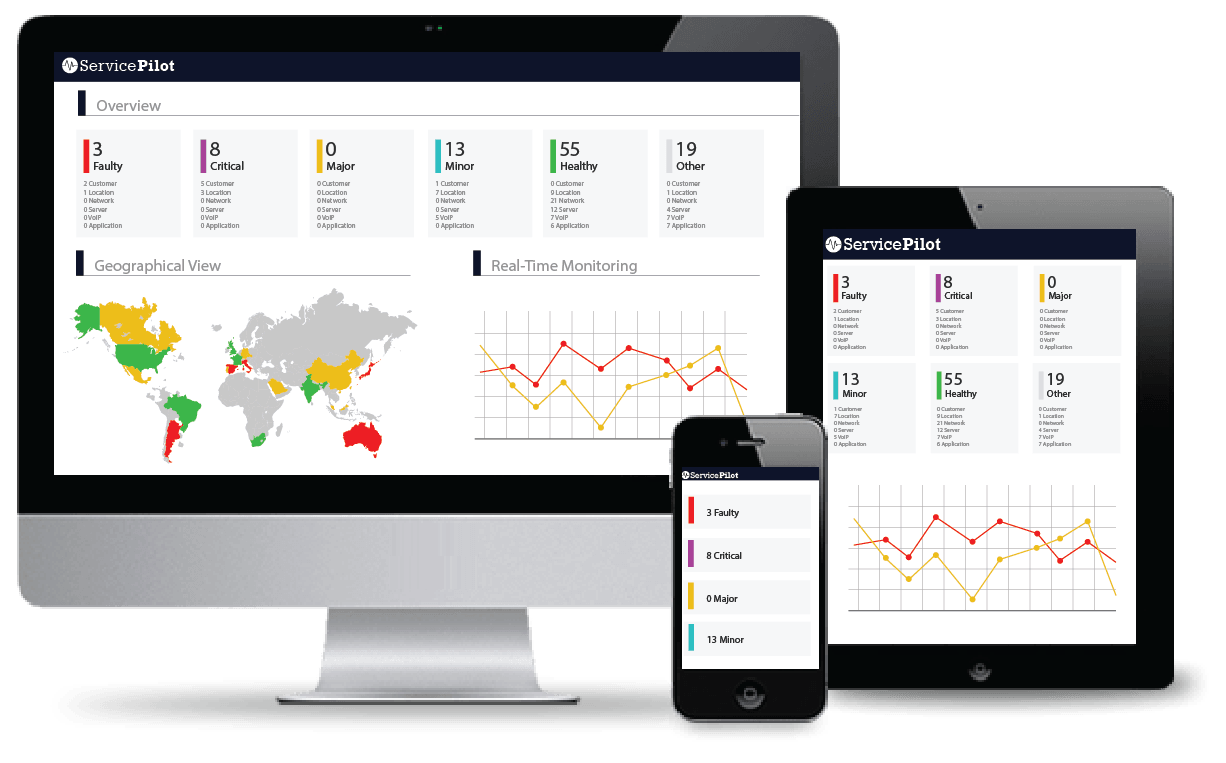 I want to be able to see an OVERVIEW of my servers and THE DETAIL of the virtualization to deliver the expected service.

Automatic discovery of resources and key indicators
Simply apply a monitoring package for your servers. All the resources will be automatically discovered and the indicator collection will start (CPU, Memory, Load, Disk, Network, I/O, top Process, …).

Server dynamic map
Install an agent on your server. Once activated it will be dynamically integrated in the geographical views of the monitoring solution without the intervention of the administrator.

Alerts and Dashboards
You will receive alerts via email, Syslog or SNMP traps when a threshold is exceeded. ServicePilot provides a wide range of standard dashboards allowing for the analysis of server performance.

The power of an end-to-end monitoring
You need to understand the service delivered to the users and localize the incidents. ServicePilot combines server, network and application monitoring to deliver an end-to-end vision.
Free installation in a few clicks