Free z/OS IP Trace and Stack Activity Analysis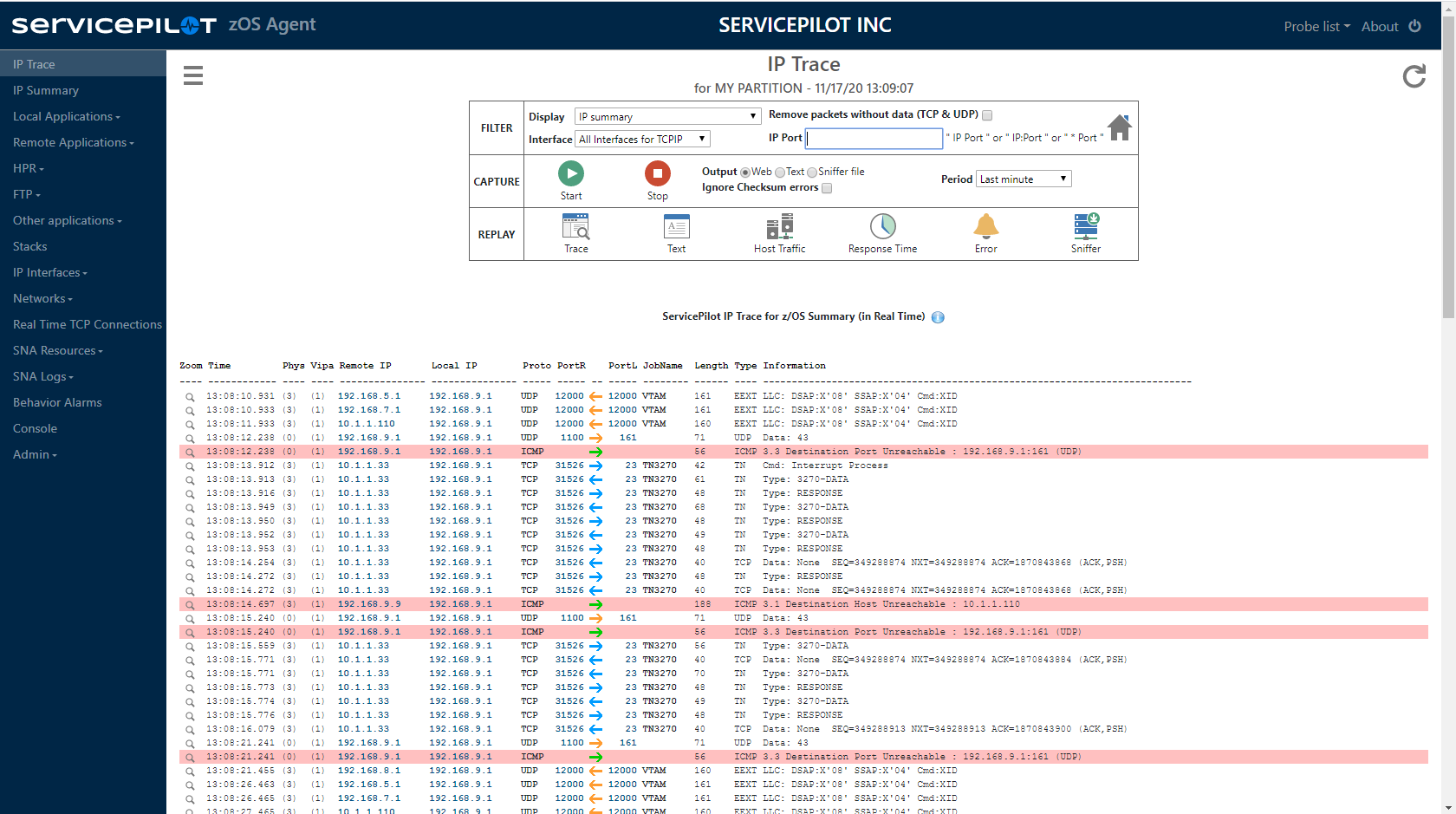 Our NBA for z/OS Free version provides a detailed glimpse into all IP traffic traversing the IP dataspace, even during ongoing trace sessions or once they've been archived. It operates within RACF parameters, supports various IP stacks, and offers secure HTTPS connectivity.
Let's consider a banking sector scenario that employs mainframe systems for critical processes like transactions, user authentication, and database management. Using our NBA for z/OS Free version, the IT team can effectively monitor the IP traffic within these systems, helping them to identify issues in real-time and rectify them quickly.
By offering such real-time packet data and powerful application traffic analysis, we empower any organization using IBM mainframes to define typical application behavior, highlight potential issues, and swiftly alert IT teams. This all contributes to enhancing overall system performance, ensuring secure and uninterrupted services for your users.

Detailed Mainframe Network Performance Monitoring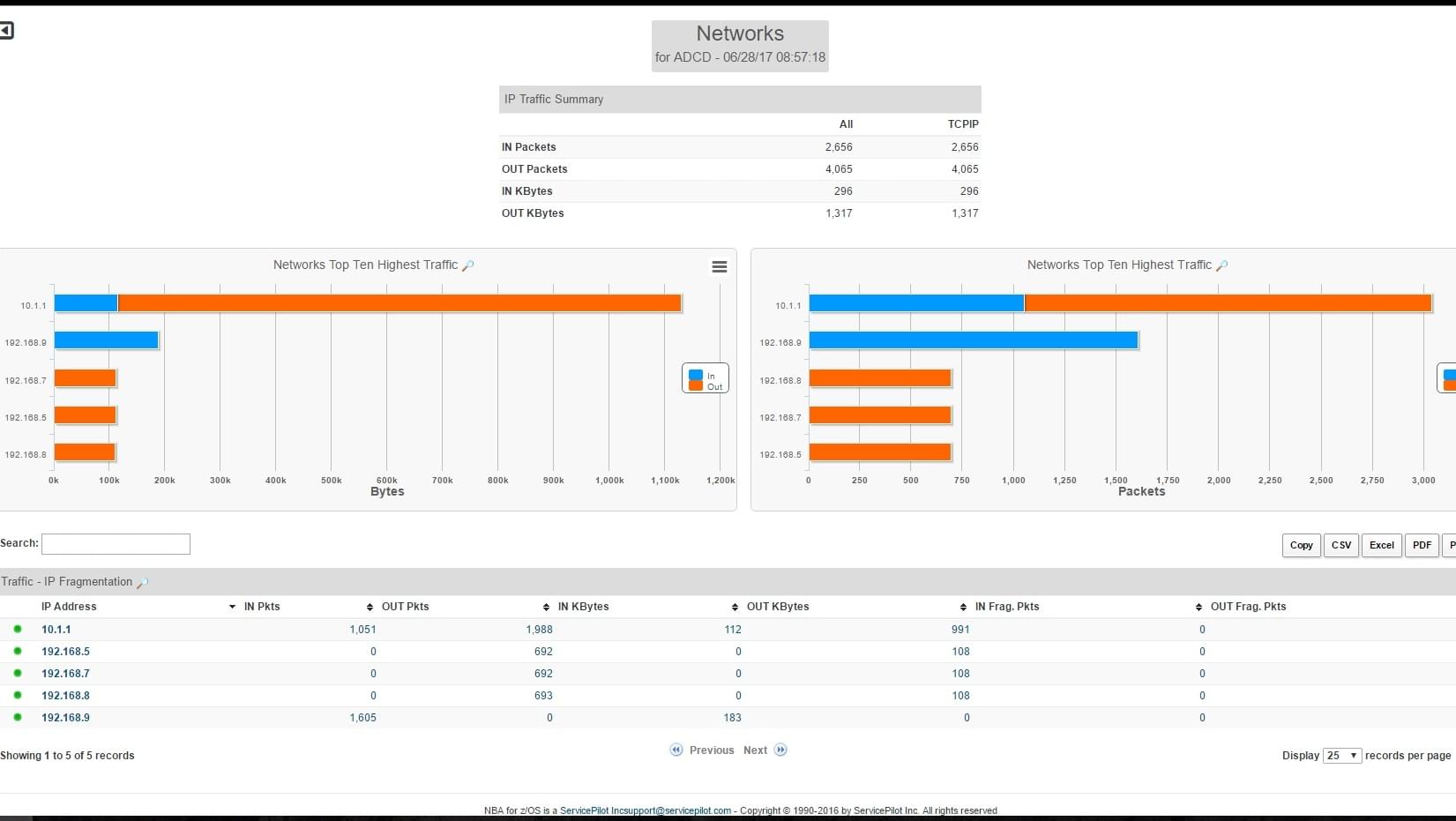 Our solution's z/OS Mainframe network performance monitoring focuses on maximizing transparency of TCP/IP activity. This visibility simplifies network issue identification and resolution by highlighting sensitive information.
Let's take an example of a multinational corporation that has a complex network with high-level protocols such as HTTP, SMTP, FTP, Enterprise Extender (EE), Telnet, and MQSeries. Our tool can decode these protocols and provide individual socket details, ensuring the IT team can promptly address potential issues or bottlenecks.
By delivering individual socket details and packet data, we contribute to resource optimization and conflict reduction. This brings you one step closer to a seamless, high-performing network environment.

Advanced z/OS Application Performance Analytics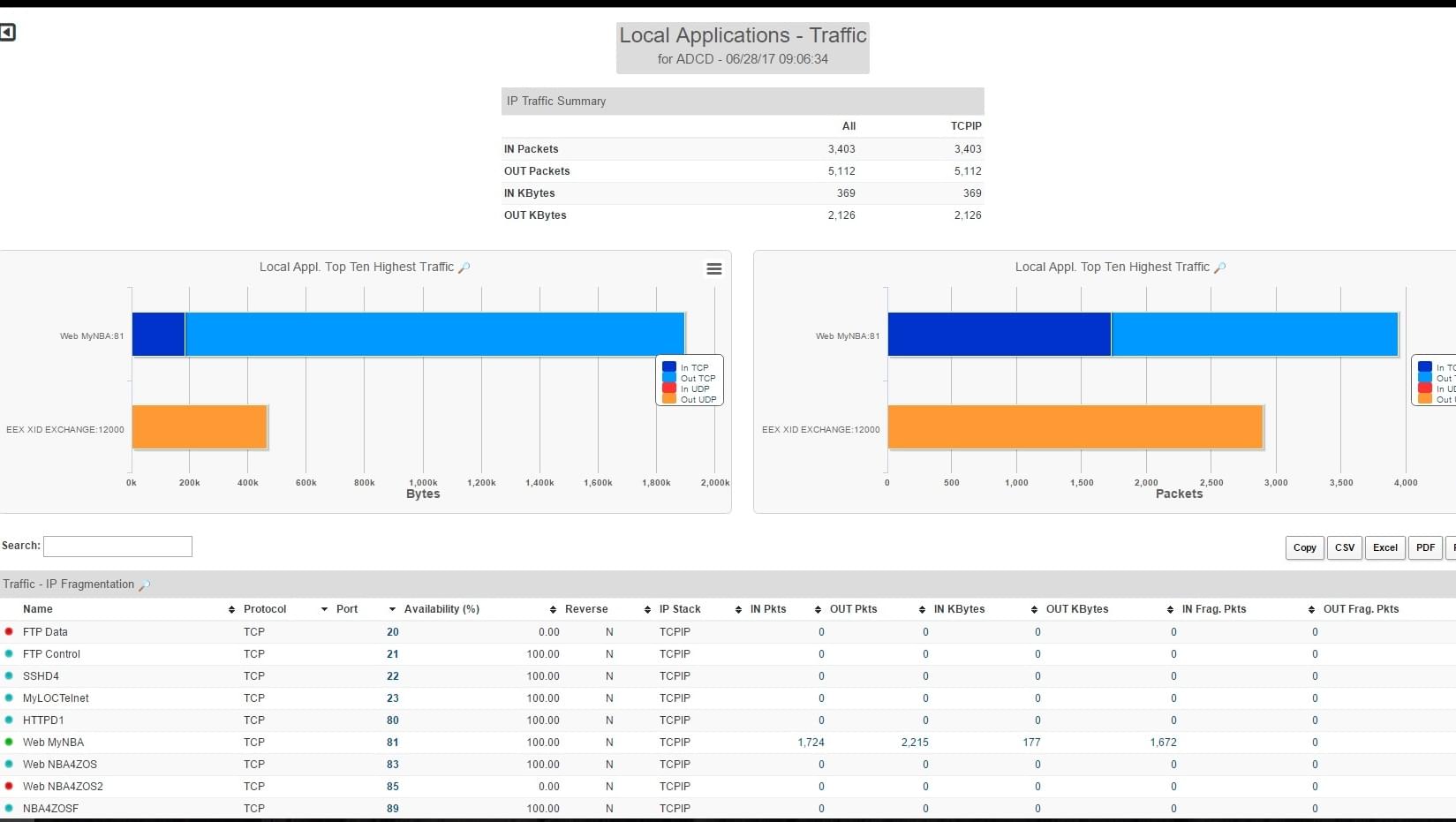 Our application performance analytics module offers real-time packet data collection and intuitive report generation, ensuring a thorough understanding of application behavior.
Picture a large retail business with an intricate mainframe setup managing multiple high-traffic applications. By using our application performance analytics, the retailer can ensure optimal performance, quickly address issues, and maintain high service levels for its customers.
By automatically storing trace data for later analysis and visualization, we help businesses understand their application performance better and enhance their service quality, ultimately leading to improved user satisfaction.

Easy NBA for z/OS Administration and Configuration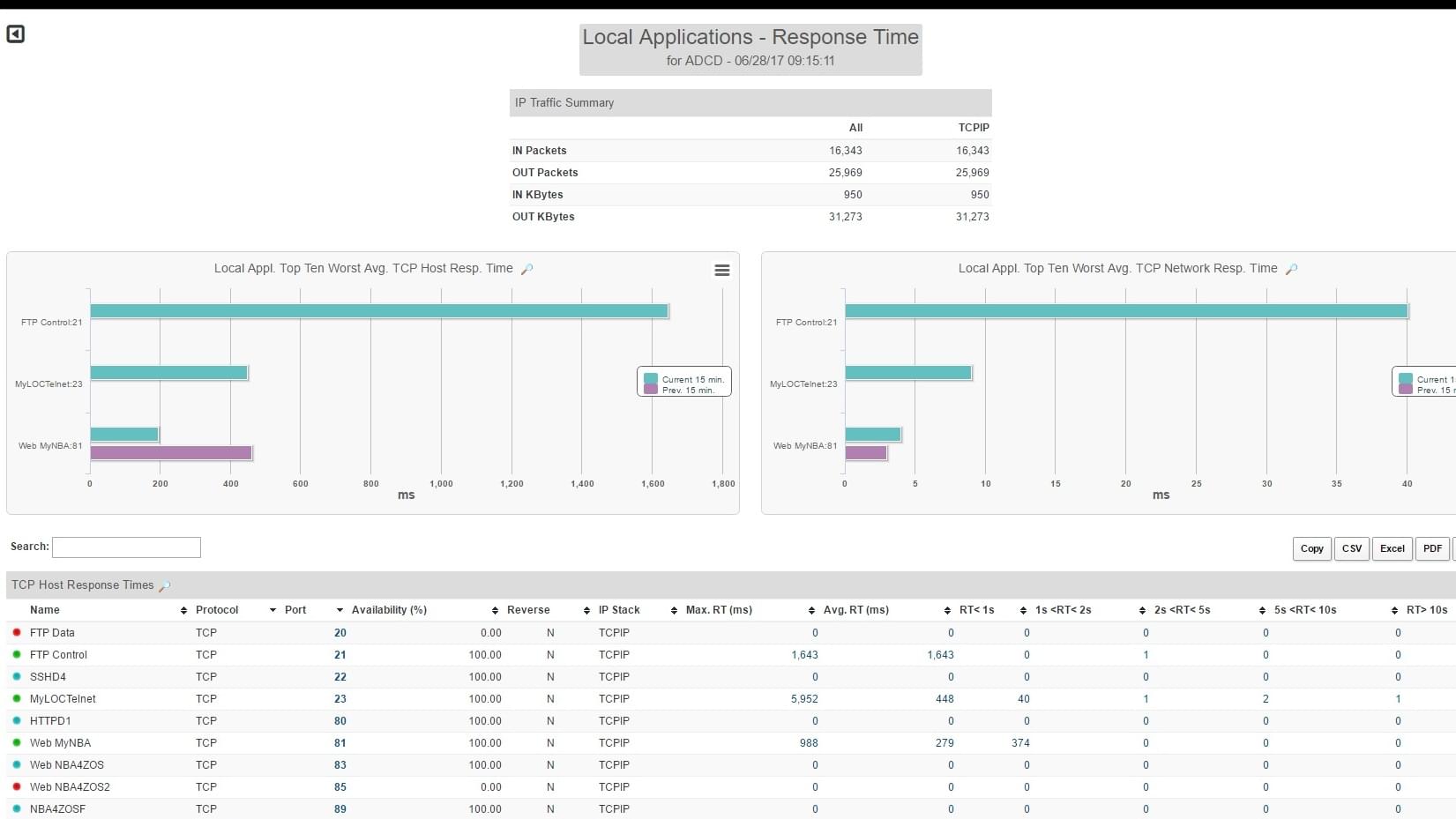 Our NBA for z/OS software and configuration ensures optimal mainframe performance using real-time technology. It provides a consolidated view of multiple ServicePilot NBA for z/OS probes and is 100% written in assembler for peak performance.
Imagine a healthcare system utilizing mainframes to manage vast amounts of sensitive patient data. Using NBA for z/OS passive probe technology which allow users to work at the datagram level, they can achieve an end-to-end production view of core network activity, ensuring efficient data handling and high security.
By offering a user-friendly web interface and low-cost, high-performance solutions, we help businesses manage their mainframe systems more effectively. This enables you to maximize the return on your investment and ensure the smooth operation of your mainframe systems.

NBA for z/OS + ServicePilot: Hybrid APM for Mainframe AIOps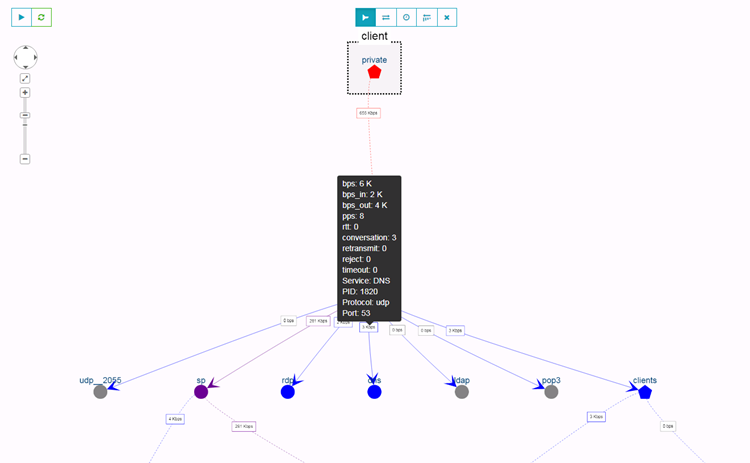 Our cutting-edge solution provides an integrated platform that combines NBA for z/OS with ServicePilot, bridging the gap between traditional mainframe monitoring and modern Application Performance Management (APM) and Artificial Intelligence for IT Operations (AIOps) practices.
For instance, consider a large e-commerce business that handles a significant volume of user transactions daily, all managed by their mainframe system. By integrating NBA for z/OS with ServicePilot, they can leverage modern APM techniques and AIOps to proactively monitor application performance, detect anomalies, and automate responses to potential issues. This ensures a smooth user experience and optimized operational efficiency.
The integration of NBA for z/OS and ServicePilot offers a seamless way to incorporate modern IT management approaches like APM and AIOps into your mainframe operations. By doing so, businesses can enhance system performance, increase efficiency, and ultimately drive improved business results.


We take a close look at the performance of our applications: to acquire a real vision of the quality of service, to better understand, and to have a historical statistical record
Unleash the Power of ServicePilot Mainframe Performance Monitoring

Intuitive and User-friendly
Our top-down dashboards offer a comprehensive overview at a glance, with detailed information accessible in a single click. ServicePilot NBA for z/OS is easy to use, requiring no specialized training.

Total IBM Mainframe Visibility
We provide end-to-end, real-time system performance and application monitoring in the z/OS environment.

Detailed TCP/IP Activity Analysis
ServicePilot NBA for z/OS captures, analyzes, and alerts on abnormal network behaviors such as poor application response time or bandwidth issues.

Customizable Reports and Alerts
Our standard reports and alerts can be fully customized to match your work environment, ensuring a personalized and efficient monitoring solution.
Other Application trace APM Solutions
Free installation in a few clicks