Streamline Monitoring with Auto-Discovery of Applications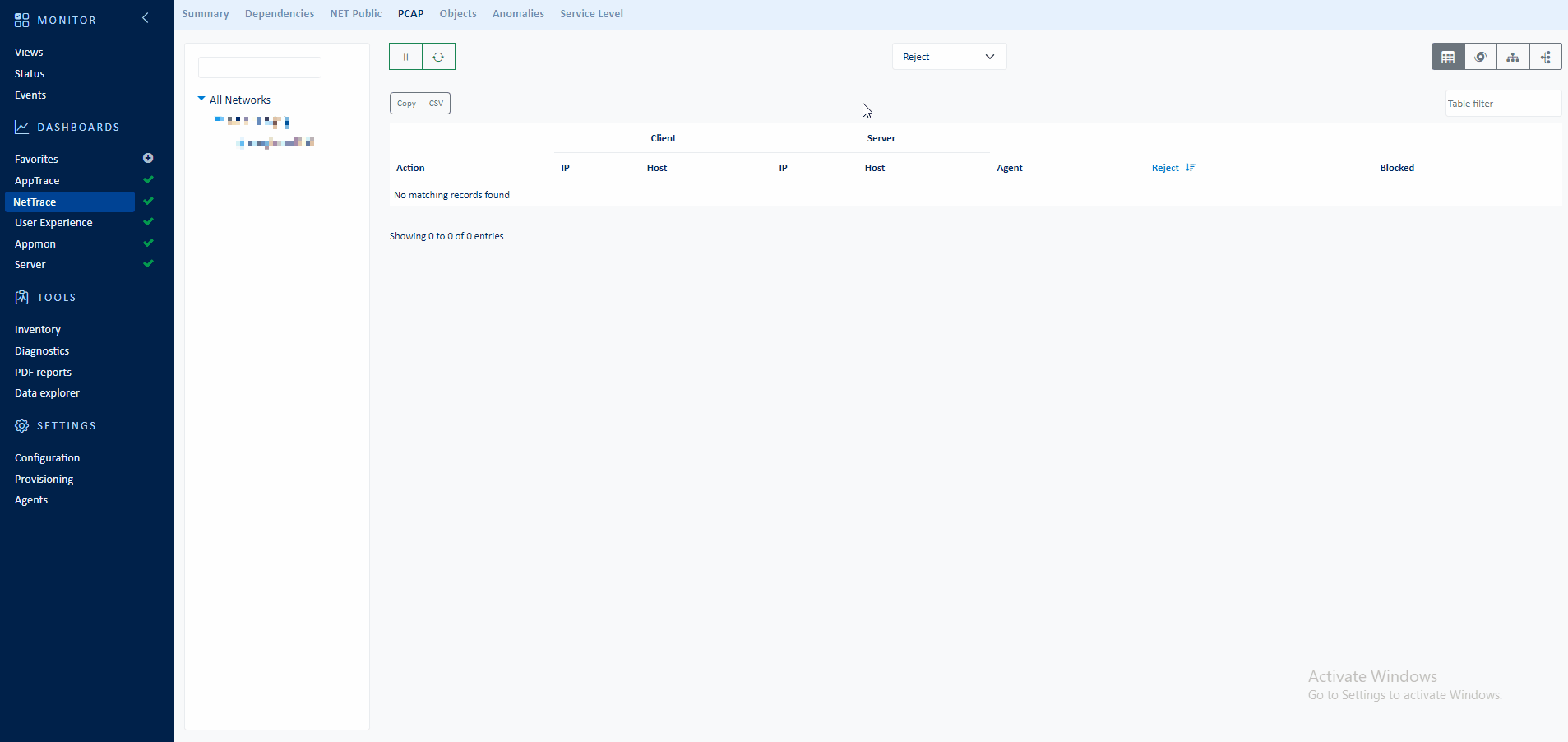 ServicePilot optimizes the performance of your IT infrastructure through automated application discovery and TCP/UDP traffic monitoring. This feature provides comprehensive visibility into application flows across your servers and highlights the top bandwidth-consuming hosts, applications, or clients.
For instance, imagine a growing e-commerce business struggling to understand the performance metrics of its various applications. With ServicePilot's auto-discovery, the company can instantly map its server traffic and manage its IT services more effectively.
Through such insights, you can better manage your IT services, ensure robust connections, and improve the overall efficiency of your digital landscape.

Automatic Mapping of Application Traffic and Performance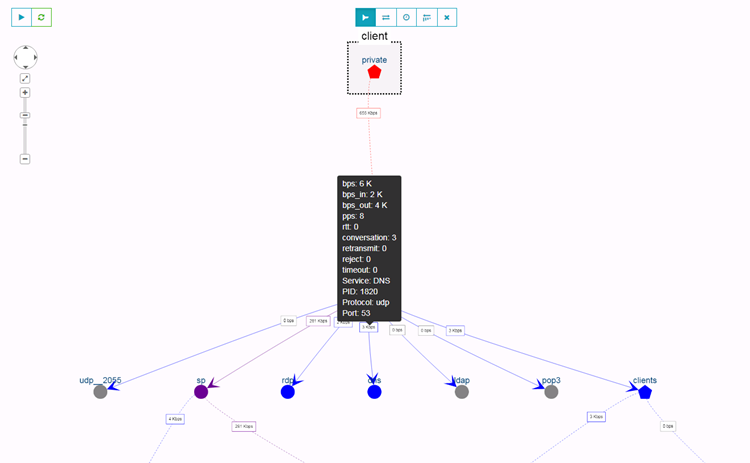 ServicePilot not only monitors your applications but also analyzes their behavior on your servers. This automatic mapping of application traffic, coupled with behavioral trend analysis, provides substantial support for troubleshooting application performance issues.
Consider a financial institution dealing with frequent server crashes due to high load. ServicePilot's automatic traffic mapping allows them to identify the problem's source and devise a solution, thereby minimizing downtime.
Having detailed statistics for each discovered and monitored application, you can quickly identify and address performance bottlenecks, leading to improved application performance and user satisfaction.

Navigate with Ease in Detailed Application Monitoring Dashboards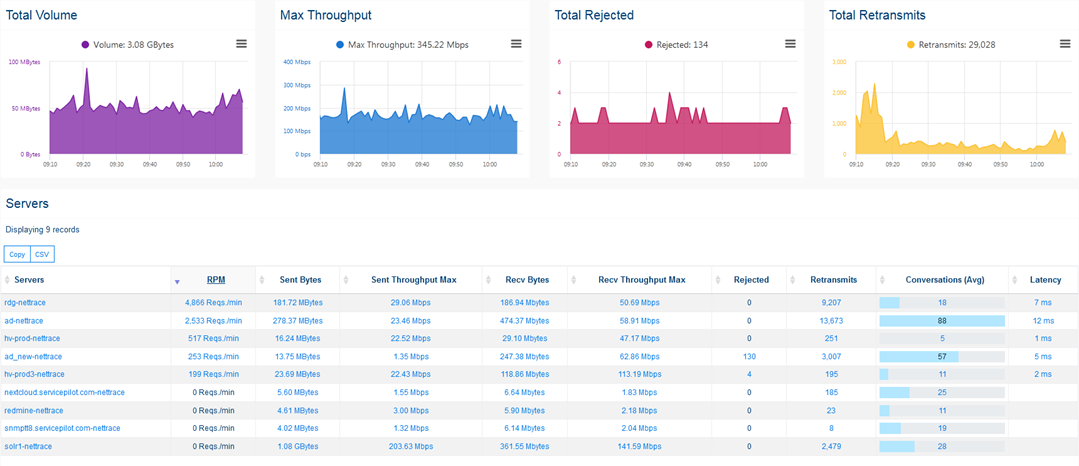 ServicePilot's intuitive dashboards allow you to analyze, tweak, and validate your application performance goals effectively. You'll have crucial data at your fingertips, including the number of requests per minute, sent and received bytes, latency, rejected connections, and TCP retransmits.
For example, a SaaS company could use these dashboards to identify patterns of high latency and address them, improving the user experience.
With this level of visibility, you'll have everything you need for effective management of application performance, leading to increased server efficiency and user satisfaction.

Prompt Issue Resolution with Real-Time Application Monitoring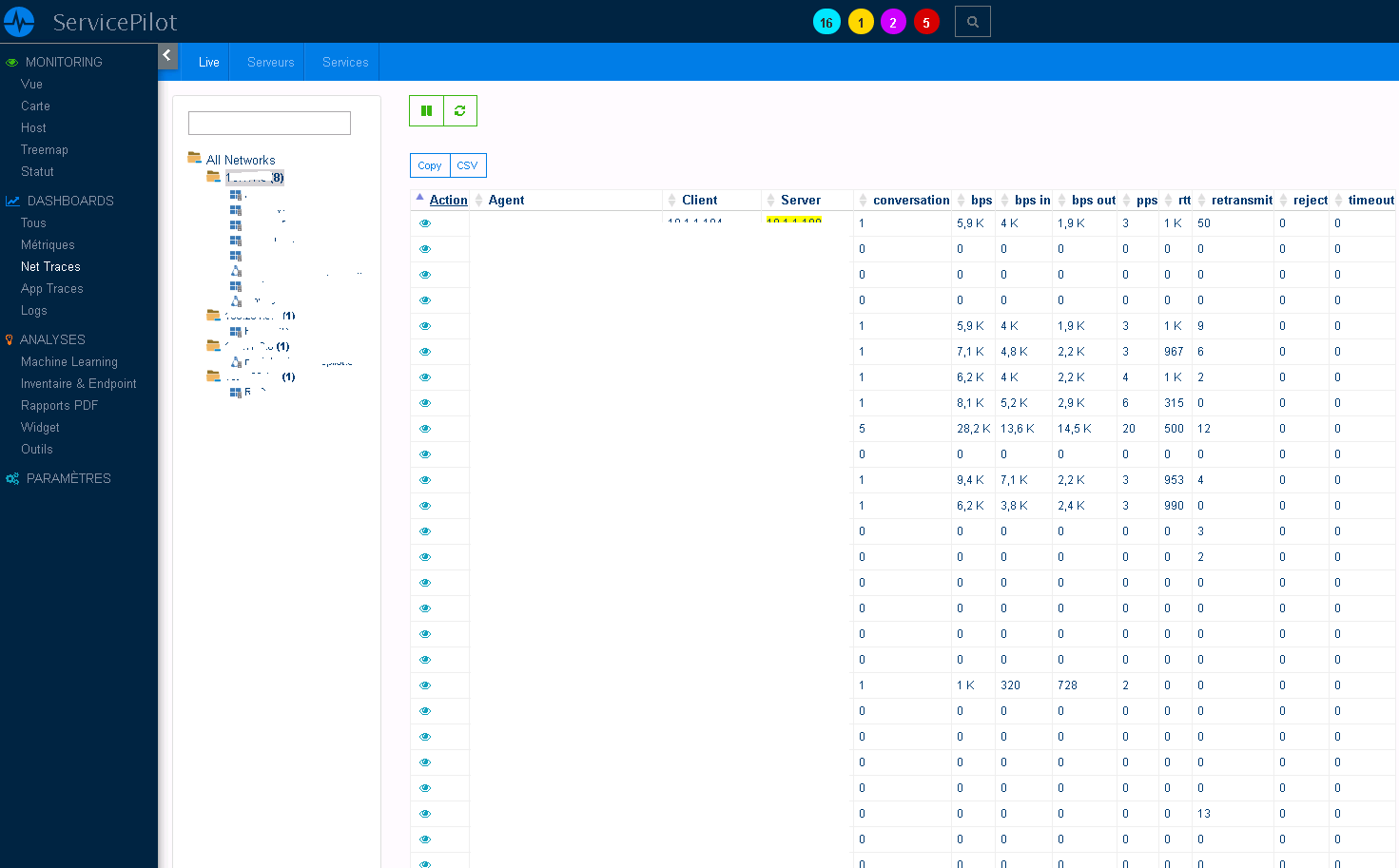 ServicePilot allows you to analyze your application performance in real time with live interfaces. These can be filtered and sorted to display only the data streams you're interested in, including IP Client, Server, number of conversations, bps in, bps out, TCP retransmits, TCP rejects, and timeouts.
Imagine a digital media company experiencing fluctuations in their website's load time. Using ServicePilot's live interfaces, they can quickly spot the issue and resolve it in real time.
This feature not only minimizes downtime but also empowers your team to be more proactive, leading to improved application performance and reliability.

Enhancing IT Service and Application Server Security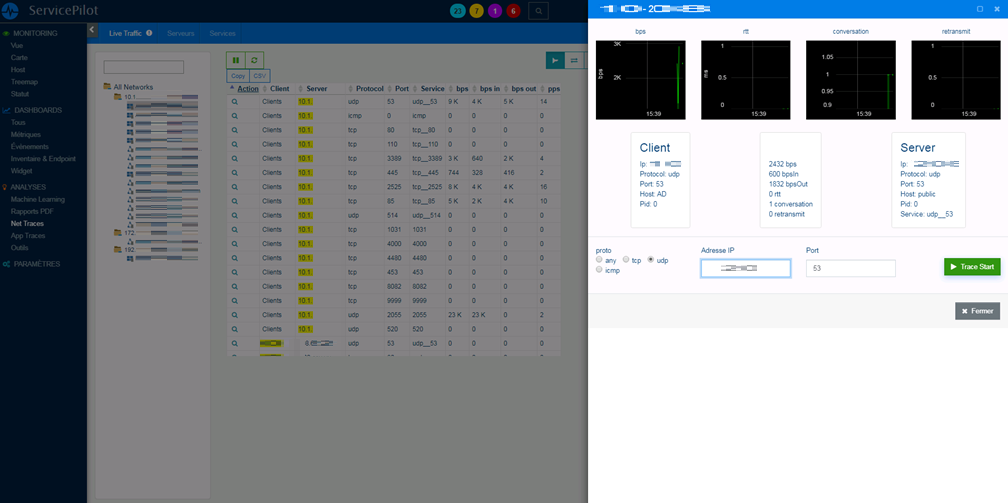 ServicePilot's NetTrace technology serves as a vital tool for security analysis. It allows you to observe all inbound/outbound flows and connections to and from servers/services. In case of abnormal data in a stream, you can even start a live trace in PCAP format directly in your browser.
A government institution, for instance, can use this feature to detect and mitigate swiftly potential cyber threats, ensuring the integrity of their sensitive data.
This powerful tool ensures top-notch security, protects your business's reputation, and fosters customer trust in your brand.


We discover the main applications on our servers and are able to monitor them in great detail automatically.
Automatic Monitoring of Network Flows for Application Servers

Automatic Discovery
Automatic discovery of applications and services on all Windows, Linux and z/OS servers.

Comprehensive Statistics
Detailed activity statistics for each application discovered and monitored.

Live and Historical Data
Multiple interfaces for live monitoring and analysis of historical data.
PCAP Traces
Live mode with the possibility to plot the desired stream in PCAP format in the browser.
Other Application trace Solutions
Free installation in a few clicks