Monitoring Genesys
Genesys

monitoring

Advanced Genesys Call Center and Solutions Monitoring
Genesys Infrastructure and Applications Monitoring
ServicePilot brings you an integrated approach to monitor the availability and performance of every aspect of your Genesys on-premise Configuration Server. We focus on resource status, including Host, Application Servers, and Solutions, as well as application statistics, such as MCP, CCP, and PSTN-C, through SNMP data collection.
Consider a scenario where an IT team manages a large contact center that employs Genesys applications. Without appropriate monitoring, a sudden server overload might lead to a drop in the call quality or even a total service outage, leading to customer dissatisfaction. With ServicePilot's Genesys monitoring, the IT team can proactively monitor and manage server loads, preventing any potential disruptions and ensuring seamless operations.
By ensuring seamless monitoring of your Genesys environment, we enable you to pre-empt potential issues, optimize resource utilization, and enhance overall Genesys performance. This results in uninterrupted service delivery, better customer experience, and ultimately, improved business outcomes.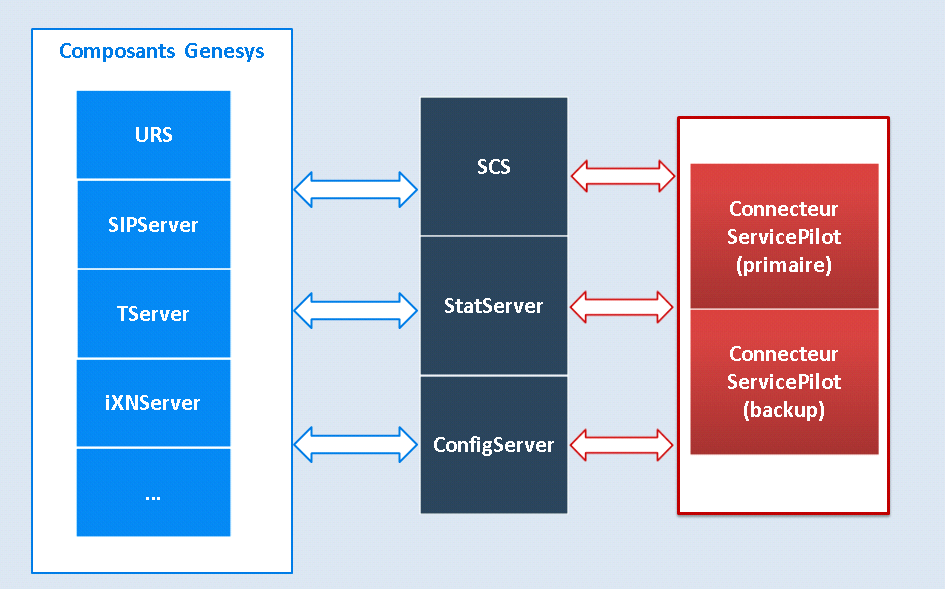 Comprehensive Log and Event Analysis
Our Genesys monitoring service also incorporates log collection from the URS omni-channel routing engine. This data enables you to analyze call patterns and routing, allowing you to optimize your contact center operations. You can create alerts based on log content or data from any monitored resource.
For instance, suppose a contact center is experiencing unexpected call drops during peak hours. Using ServicePilot's log and event analysis, the IT team can pinpoint the cause of these drops—be it a routing issue, server overload, or something else—and swiftly address the problem.
By empowering you with in-depth log and event analysis, we provide you with a granular view of your Genesys Contact Center operations. This leads to quicker issue resolution, enhanced call handling efficiency, and improved customer satisfaction.

Data Unification and Correlation for Better Performance
ServicePilot's Genesys monitoring solution allows you to centralize various data sources in a dashboard or PDF report. This aids in correlating data and estimating the performance of the Genesys Contact Center.
For example, an IT team is trying to ascertain the root cause of a performance issue in the Genesys environment. With the unified view of data provided by ServicePilot, they can correlate data from different sources, quickly identifying any anomalies and their sources, thereby speeding up issue resolution.
This data unification and correlation capability enhances your understanding of the Genesys performance, allowing for more informed decision-making, efficient troubleshooting, and ultimately, optimized operations.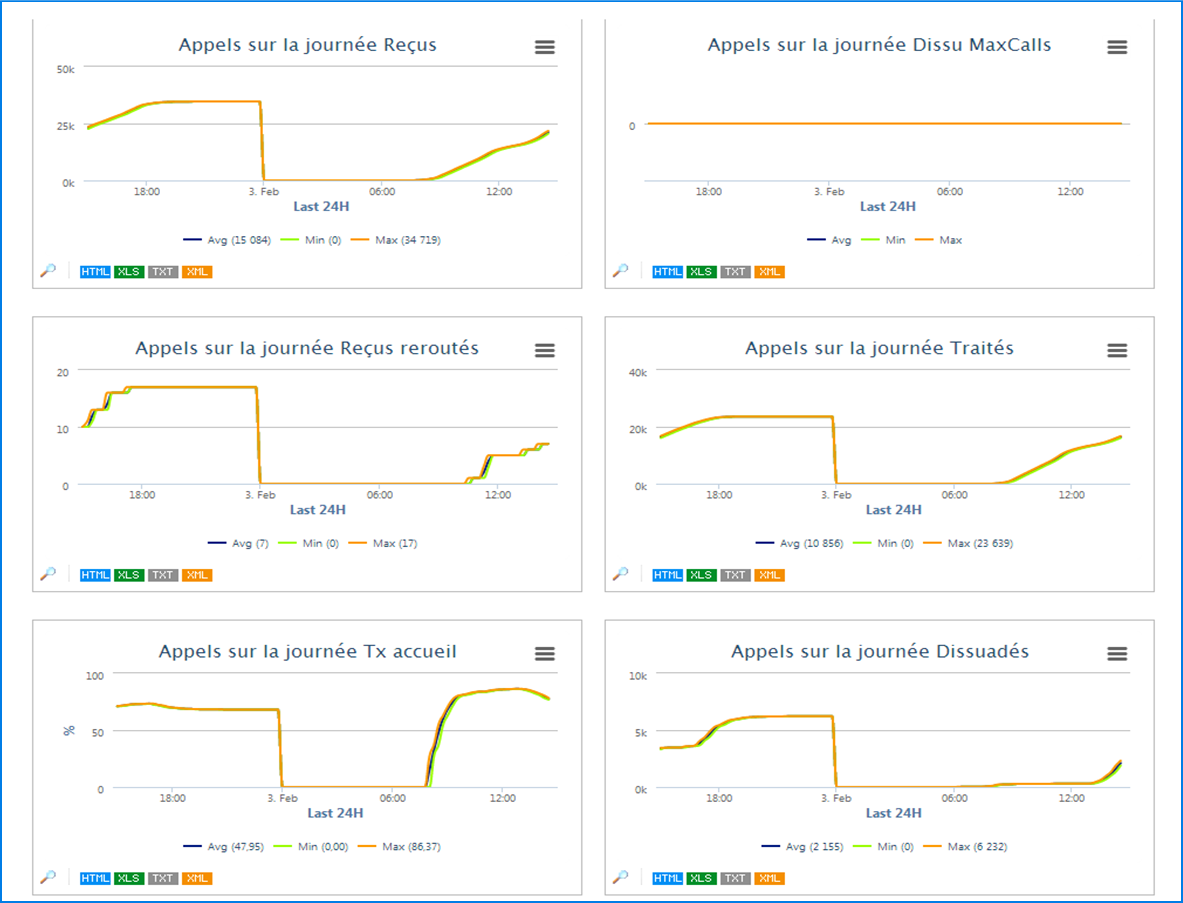 ServicePilot monitors our Alcatel-Lucent Unified Communications environment and collects Genesys business metrics, allowing us, for example, to correlate trunk saturations that affect contact center performance.
Detailed Genesys Statistics Analysis with ServicePilot

Agent Monitoring in Real-Time
The indicators we collect reflect the number of resources, including the number of agents logged in, available, and more. This ensures optimal agent management and operational efficiency in your Genesys Contact Center.

In-depth VQFLUX Analysis
Our VQFLUX metrics cover various aspects such as the number of calls in progress, qualification and waiting times, maximum time, average time, and more. This analysis helps in managing call flow and enhancing your customer service efficiency.

Comprehensive VQMOTIF Metrics
Our VQMOTIF analysis provides insights into the number of calls over the day - received, processed, reception rate, redirected, deterred (EWT, MWT, total), and more. This data is essential in understanding call trends and planning resource allocation.

Routing Point Statistics
We offer detailed statistics about the number of calls over the day - received, outgoing, abandoned, total and average time on GVP, and more. This assists in optimizing your Genesys Contact Center's call routing strategies, ensuring effective communication and improved customer satisfaction.
Other VoIP & UC solutions
Free installation in
a few clicks
SaaS Plateform
Flexible deployment according to your needs (SaaS, hybrid, on-premise) to speed up supervision implementation.
No on-premise software setup, servicing and configuration complexity
Instant setup, complete and pre-configured to ensure robust monitoring
OnPremise Plateform
Flexible deployment according to your needs (SaaS, hybrid, on-premise) to speed up supervision implementation.
Contracts and commitments over time ( > 1 year)
Performance, Data Storage and Infrastructure Management
2 additional solutions: VoIP and Mainframe monitoring